プリスクールで皆に会えなくなるのは寂しいです。。。

卒業してもプリスクールに遊びに来てくださいね。
プリスクールの皆様から頂きました、素敵な記念品の時計を早速壁に
掛けさせていただきました。
有難うございました。
そして、4月から新たにこの時計と共に思い出を刻んでいきます。。。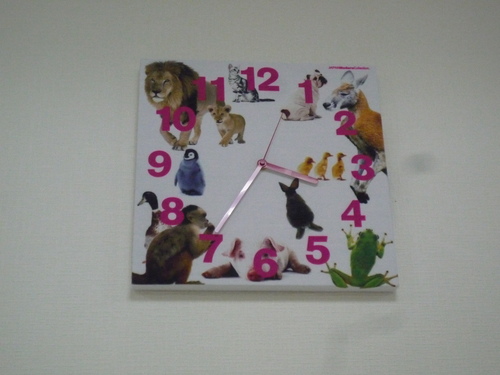 キッズスマイルインターナショナルスクール
代表 森下しほ
3月25日、15名のプリスクール生が巣立ちました。。。
巣立って行きました。。。

ママと離れるのが嫌で泣いていた子供たちが本当に頼もしく成長しました。
先生はみんなのこれからの成長も楽しみにしています。。。

本日はご卒業おめでとうございました。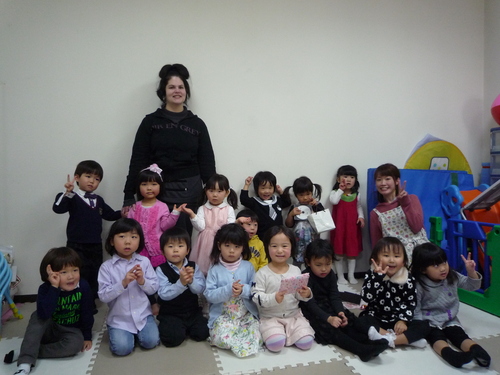 キッズスマイルインターナショナルスクール
代表 森下 しほ
今日3月25日(水) 8期生プリスクール15名がキッズスマイルから
After the exhibit, my friends and I went to a popular restaurant called "The Lock Up". This restaurant is a haunted type izakaya. They have many delicious dishes and appetizers but are known for their creative cocktail drinks. Most of the drinks you can make yourself. They are very delicious! also each hour the lights will go out and the staff of the restaurant dress up as scary ghosts and try to scare you while you eat. It's a very fun experience!!
Thank you all for reading and have a good weekend!
Stephanie
Hello! how is everyone today? two weeks ago I told everyone that I was going to see the Tim Burton Exhibit. I finally went on March 14th and it was amazing! The exhibit is at The Grand Front Building in Osaka station. The exhibits had many drawings, paintings, sculptures and even film strips of some of Tim Burton's stories and movies. One of my favorite movies is a Nightmare Before Christmas. I was so excited to see the drawings and sculptures of some of those characters. There was also a big gift shop. I had to buy some photos and even a tin of chocolate shaped like swirls. If you enjoy art and fantasy or are a fan of Tim Burton and his movies I recommend going to see this exhibit before it goes away. The exhibit lasts until April 19th and ticket prices are very reasonsable.
Tomorrow marks the official start of spring. It`s time to put away your coats, and pull out all your spring clothes! I don`t know about everyone else, but I`m very excited for it to finally come. Without snow I don`t care much for winter and its cold, blustery days. Being in Japan it`s also almost time for cherry blossoms to bloom. Parks will be crowded with people enjoying picnics under the beautiful, blooming flowers. Has anyone decided where they`re going to go and enjoy them?
Tomorrow is also our KSIS graduation. Mei will be our first graudating student here at KSIS. It`s no doubt a very important day for her. Although I`ve only spent a brief time with Mei here compared to the other teachers here, I`ve nonetheless enjoyed every minute I`ve been able to have with her. She`s been a real treat teaching this past year, and I`m going to miss having her in my class. I only hope the best for her and her future pursuits.
Jordan
Hello! I hope everyone is doing well.
春来る!
で段々と暖かくなってくる様子でございます。
それと同時に花粉も凄くて目、鼻ムズムズ
花粉のシーズンでお困りの方も多い事とは思いますが、頑張って乗り切りましょう。
さて先週の3月8日私事ですが、誕生日でした。
KSISの生徒から誕生日カード頂きました。
凄く嬉しかったです💓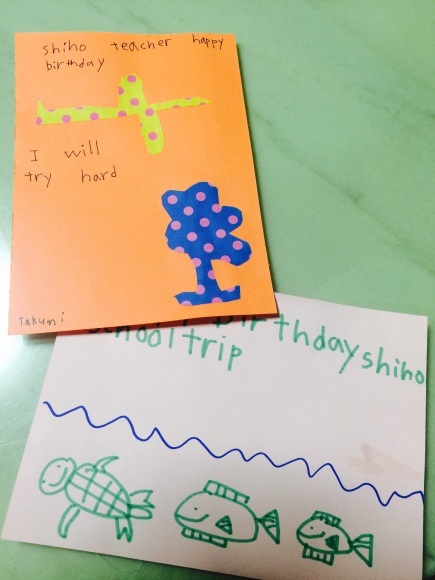 Takumi & Asahi
Thank you for the Birthday card.
そして、娘からのサプライズでした。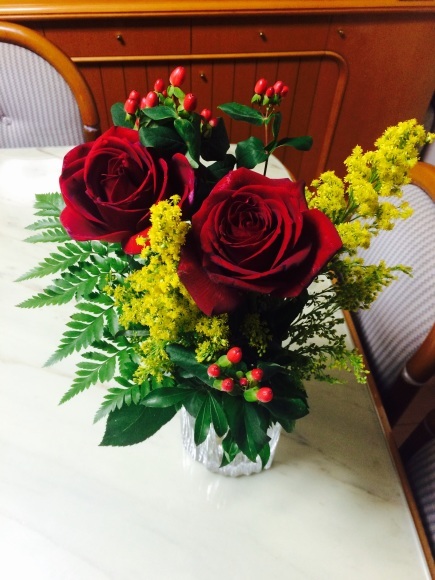 いつになっても嬉しいものですね。💓
歳をとるのは微妙ですが....😂
キッズスマイルインターナショナルスクール
森下 しほ
Thanks for reading!
Stephanie
Hello! how is everyone today? Today I want to talk about March 17th which is a holiday called "St. Patrick's Day". St. Patrick's Day is the celebration of St. Patrick who was the saint to bring Christianity to Ireland. Even though it was originally a religious holiday, most people celebrate it for the love of Irish culture. On this day, if you were of Catholic religion, bans on alcohol and food were lifted for the day due to lent. Nowadays, most people wear green and drink lots of alcohol. There are big parades almost everywhere around the world. St. Patrick's Day is also one of the biggest drinking days. As the saying goes, everyone is Irish on St. Patrick's Day. Even though I was born in the United States, my ancestors are Irish so I have Irish blood. I am very proud and I often wear green on St. Patrick's Day!!! Don't forget to wear green for St. Patrick's Day!!!
子ども達が堂々と発表している姿をみて、とてもうれしく思いました!
さて、明日はホワイトデーということで…
2月末から作成していたホワイトデーのbagを返却しています。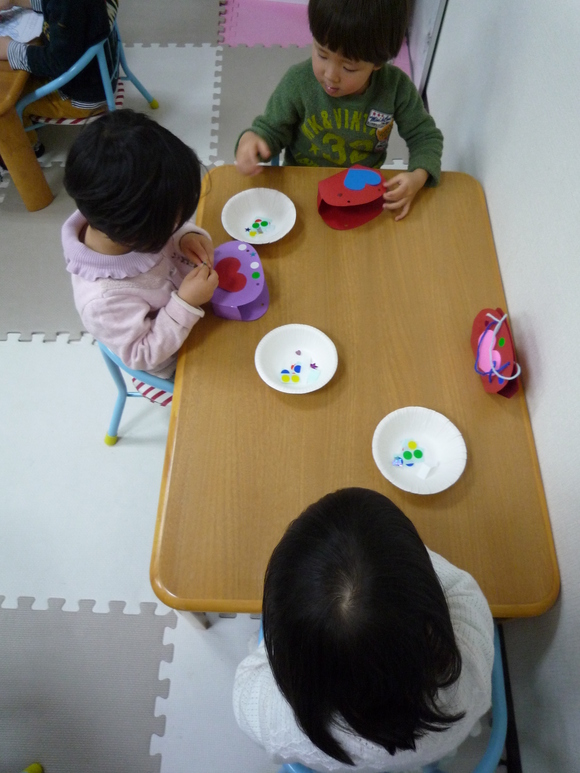 クラフト大好きな子ども達、一生懸命作成してくれました!
そしてbagの中には~…お菓子☆☆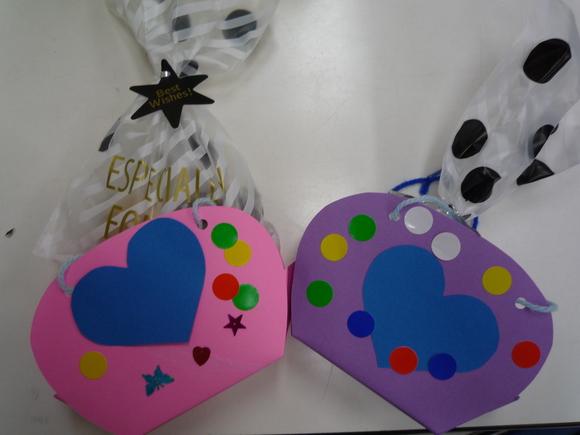 bag&お菓子をもらった子ども達はうれしそう!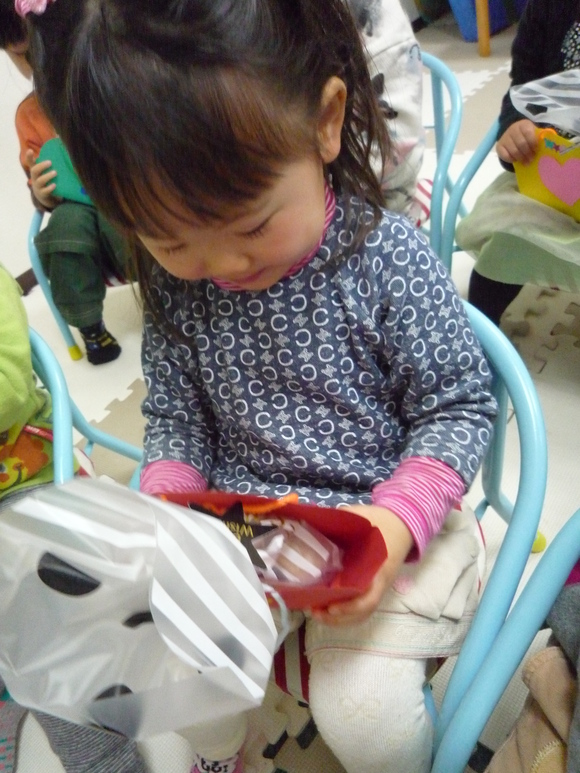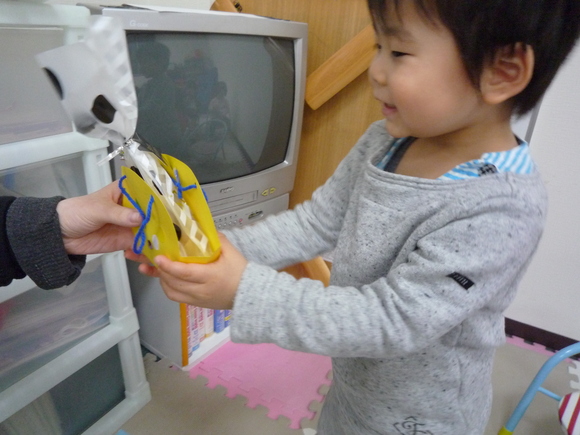 おうちで食べて下さいね~。
キッズスマイルインターナショナルスクール
aiko
先日は発表会に参加頂きましてありがとうございました☆
It`s a bit early, but I`d like to talk about Easter this week. Easter is one of the biggest holidays in the United States, and will be observed this year on April 5th. Easter has a long history, and was originally celebrated for the resurrection of Jesus Christ after his crucifixion. People go to church on this Sunday every year, where special services are held.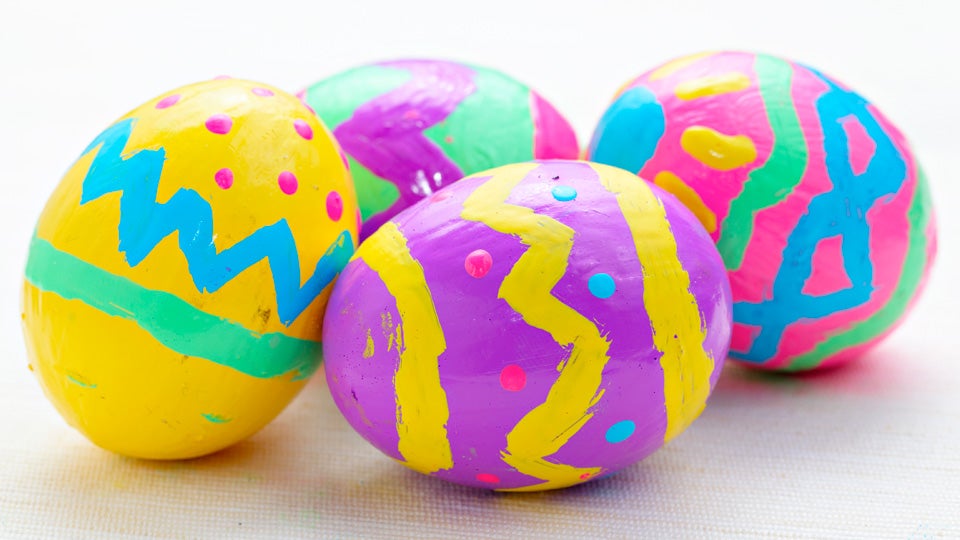 In more modern times, Easter has another non-religious side. Is anyone familiar with coloring eggs? It`s where people boil eggs and then color them many bright colors, like blue, pink, yellow, green, etc. Afterwards, people enjoy Easter egg hunts, where parents will hide eggs outside and then kids will find them. On Easter morning, the Easter bunny brings children Easter baskets filled with candy, chocolates, and sometimes toys. As a kid I would always get excited waiting to get my Easter basket.
Until next week, everyone!
Jordan
Hello! How is everyone? Did everyone enjoy the Frozen performance last week? Everyone worked really hard and did very well, if I do say so myself.
誠にありがとうございました
子ども達の演出がほんとに素晴らしいもので私も感無量でございます。
毎年発表会を開催する毎に子ども達の成長に驚かされるばかりでございます。
これもひとえに、保護者の皆様方のご支援、ご厚情の賜物と心より感謝申し上げます。
今後も変わらぬご指導・ご鞭撻のほど宜しくお願いいたします。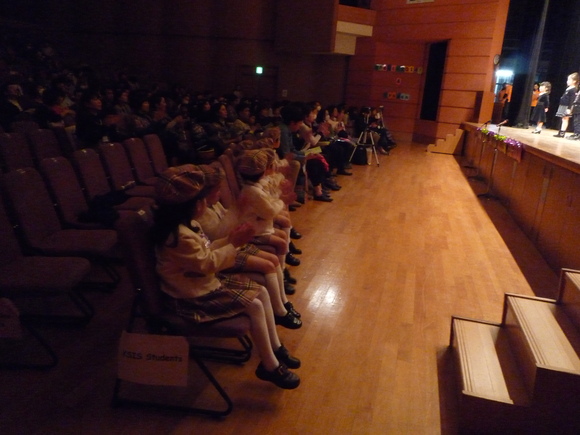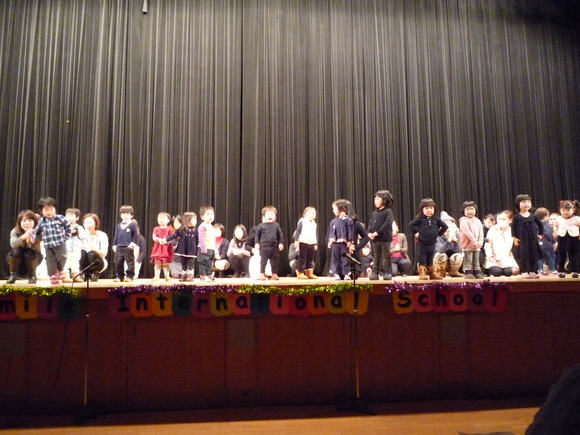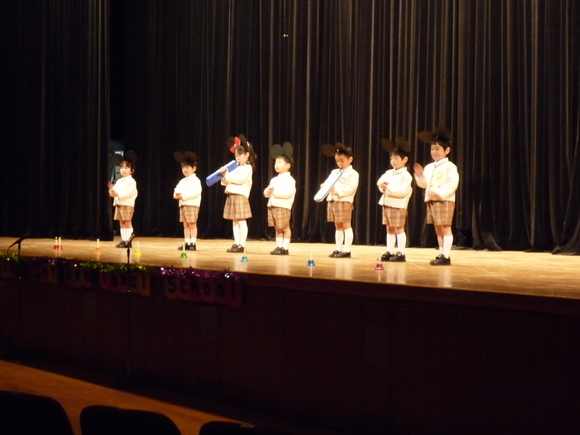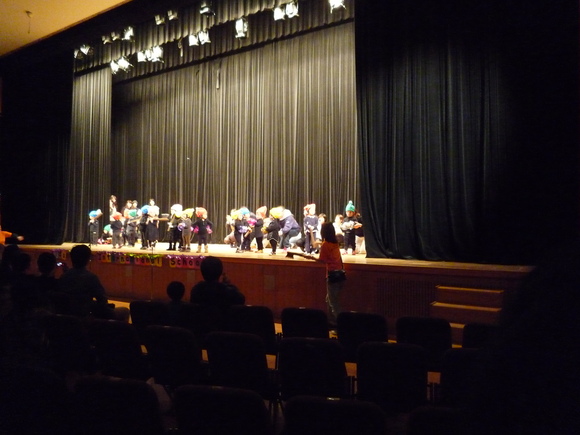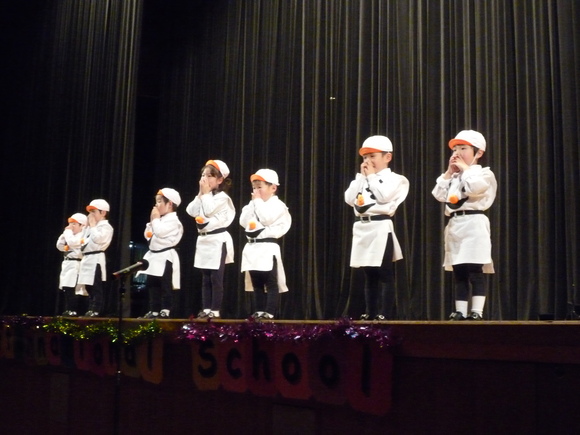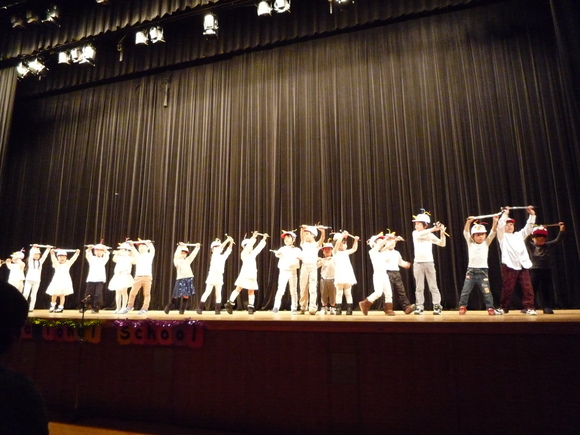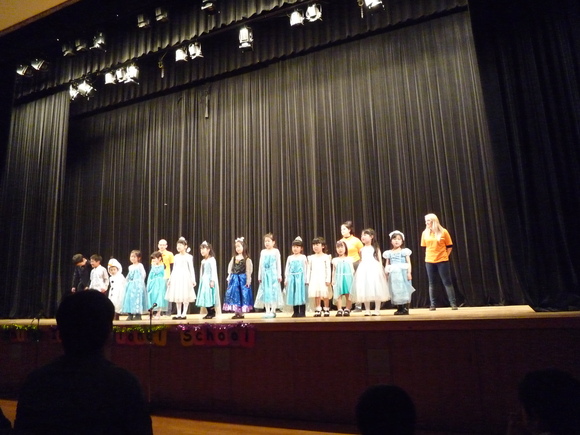 キッズスマイルインターナショナルスクール
代表 森下しほ
先日はお忙しい中、キッズスマイルの発表会&スピーチにご参加いただきまして